Equal parts excited and nervous
A podcast, a listening party, a playlist!
Hey everyone!
This time next week I'll be on a plane back to Brooklyn to get ready for tour and to find a place to hide from the internet when our record is released next Friday. I am equal parts excited and nervous as fuck. My brain is essentially paralyzed, bouncing back and forth between those two emotions, so I'm just going to use this week's invasion of your inbox to tell you a few things that have happened recently or are happening soon.
Last week my friend and famous music writer Dan Ozzi came over to my house and we hung out with mics in front of us, so now that conversation is a podcast. We talked about the new Worriers record, what it means to work with a record label in 2020, and Dan called me out for occasionally having poor social skills. Pretty solid example of what it sounds like when we hang out, to be honest. No joke though, Dan is one person I'm genuinely glad to get to talk to about music, so this is a special one. It was originally posted in Dan's newsletter, Reply Alt, which you should subscribe to if you haven't already. Highly recommend.
This weekend is also our pop-up listening party at Junior High in Los Angeles, a rad art space where we'll have lots of prints and zines and other merch on sale to benefit Tiny Changes. Copies of You Or Someone You Know will be available (early!), I'll put the new record on the stereo throughout the day and I'm going to play some songs around 4:30pm. I just want y'all to get to hear the record and also raise money for a great charity so if you're in the area, please come by! Tell your friends who live in Los Angeles! It'll be cool!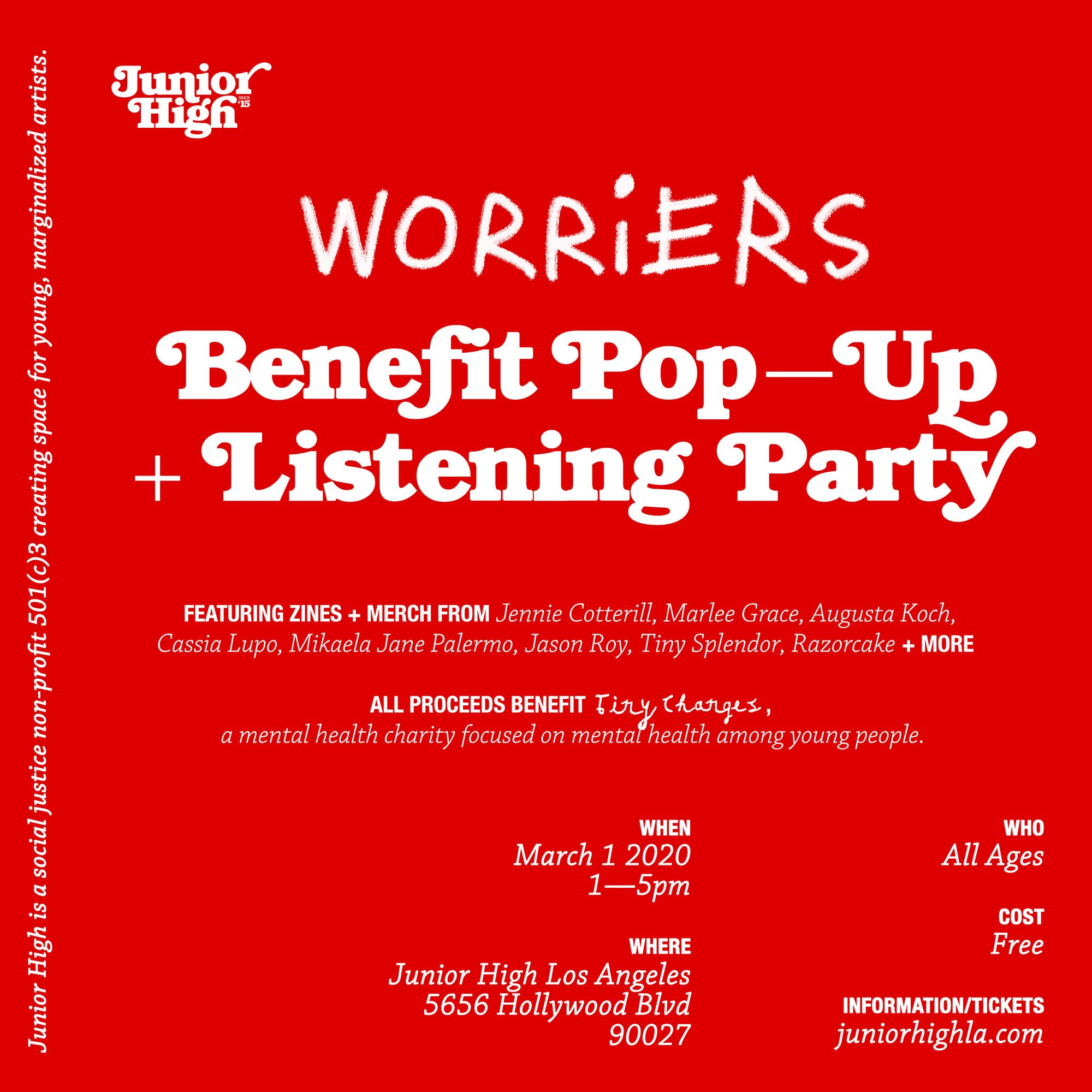 Lastly, in honor of the touring we're doing this spring, with lineups I still can't believe are real, I've updated my No Days Off playlist. More songs from Brian Fallon, John K Samson, Sløtface, Middle Kids and more. I think of it as my ongoing mixtape. Thanks again for reading and hope to see y'all at a show this spring!
Seriously, come see us on tour
PS - Please vote for Bernie Sanders. <3