We do our part.
Happy 20th Birthday, Razorcake!
The latest issue of Razorcake magazine marks 20 years of publication. Were it not for the global pandemic, there would probably be a big party to celebrate. I almost flew out for the 15th Anniversary but either couldn't afford it or had a very disappointing excuse, I can't remember which. It's up there on my list of regrets. I want to take a moment to explain what the magazine means to me, in case you're unfamiliar, or in case you're considering skipping whatever party happens next. There will be more.
I probably first heard about the non-profit DIY punk zine Razorcake from someone's coffee table at a house show in New Brunswick, New Jersey. I think it was also on the magazine rack when I worked at the coffee shop inside my local Borders Bookstore, across from the Bridgewater Mall, stocked right next to Punk Planet and Maximum Rocknroll. Having a physical magazine and getting national distribution was something that simply existed and was possible and unquestioned by my teenage brain. The thought of how any of them were made never really crossed my mind. The fact that there were real people behind those pages hadn't hit me yet, nor the possibility that I could help out.
Then I met Todd Taylor, publisher of Razorcake, on the Geek and Dork book tour in 2007. All I remember is hanging out in a parking lot, Fid introducing him to the beavers that toured with our band (long story), and telling him that I'd like to do layout design for the magazine if they ever needed someone. Fast forward to today when I'm still designing an interview layout in almost every issue. I didn't realize how volunteer run the whole operation was, but it was one of the first times I learned the lesson: JUST ASK.
There are so many people who have volunteered for the magazine and had the opportunity to see their work published. I started making a list of folks I've worked with there but it's just too long and I will absolutely forget someone. Because of Razorcake, I've had the opportunity to interview Black Rainbow and Billy Bragg, design a cover featuring Kathleen Hanna, illustrate the Trans Punks issue, and layout interviews with folks like Allison Wolfe (Bratmobile), Aaron Cometbus, Killer Dreamer, Cristy Road and more. I was once featured on the cover as a cartoon drawn by Mitch Clem. Folks can interview bands, make podcasts, publish comics, review records and zines, and while there's definitely quality control, the door seems to always be open.
According to their website:
Our open participation policy means anyone can become a contributor. Currently, RC/GP offers a forum for over 150 long-term, independent volunteer writers, photographers, illustrators, and musicians from around the world. We take pride in our scenes and represent them nationally and internationally. We also distribute the magazine to over twenty countries.
What strikes me most today is how consistent and unwavering Razorcake has been. A wide range of DIY punk coverage, positivity, and an open door to their community. They champion the bands they like, the reviews are honest, and the whole operation winds up being a pretty good reflection of everyone involved, everyone you see at shows, and all the little micro-scenes in between. That includes a lot of conversations, debates, differing opinions, without (for me, anyway) feeling like a gossipy echo chamber.
Maybe it's just because I've spent days talking to Todd about how the whole thing works, but I know that the magazine doesn't act as a gatekeeper and that's the most important thing to me. There's no hard line about what style of music can or can't get a review, what sorts of media are or aren't "punk", and no one seems to be chasing the latest trends or hype bands. You're more likely to see a lifer on the cover than the quickly rising star. I appreciate that. If I ever need my faith restored in music and art and the power of DIY to just make-shit-happen, I know where to look.
Especially since it's more difficult than usual right now to stumble across a copy, I'd highly suggest ordering one or even subscribing ($15 for a year!). Sure, you can follow the magazine in all the usual internet places but it's not the same as having a physical copy of the zine in your hands.
I know some of this sounds like I think it's all punkrock sunshine and rainbows, and it's not, because nothing is. But it's human and ambitious and inspiring to me, and it has somehow outlived many, if not all of its peers when it started. Its mission and continued efforts deserve a round of applause.
Happy 20th Birthday, Razorcake!
---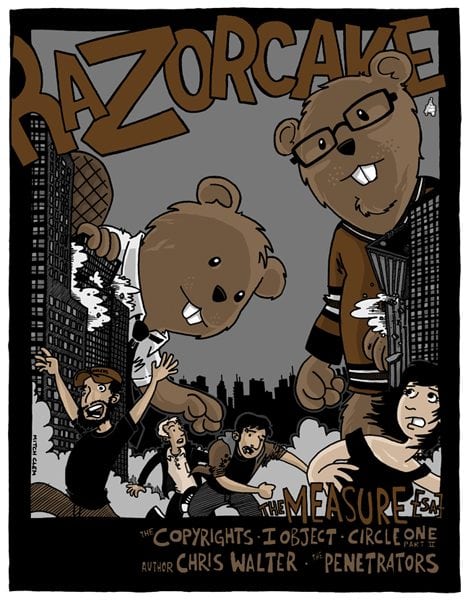 ---
ICYMI, yesterday I re-launched my art/illustration webstore with a new design and a bunch of new things including platonic valentines you can print at home. The Dolly Parton print will be back in stock soon! Thanks for the support!