This is what being busy enough looks like
Adjusting my expectations of myself and getting shit done
I made some big plans for December. I sat down and mapped everything out and thought "if I just manage my time a bit better I can get this new project done!" I wanted to create a new batch of drawings in December so that in January maybe I could find a space to make new oil paintings. Seems reasonable, right?
NOPE!
Between commissions, freelance work, ::cough:: worriers stuff ::cough:: and spending time with friends even a little bit, there's no way I'm also making 20+ drawings I'm happy with. On top of trying to turn similar things into a new zine. Absolutely no way. That's kind of a bummer, but also…it's fine.
I'm all about setting your expectations high, shooting for the moon, aiming big, etc. Go for it. Then when you maybe don't hit that mark, wherever you land is still pretty great. At the same time, you have to find a way to be excited about what you can actually accomplish when you just have a lot going on. I'm scaling back my expectations for December, but not for lack of trying.
There are only so many chords, there are only so many hours in the day.
Here's some things going on this month (that I'm allowed to tell you about). I'm pretty psyched on all of them, and so long as I get my work done and these events happen, that's pretty great. I'm psyched.
TOMORROW, December 5
Lisa Prank, Rose Melberg, Worriers (solo) @ Bootleg Theater, Los Angeles
Being able to open up for this tour is exciting to me, and I get to play some new songs for you, and maybe a cover or two. It will be my last Los Angeles show this year, so tell your pals and come on out! Lisa Prank are A+ pop punkers and Rose Melberg writes the sweetest tunes. I mean she was in the Softies and Go Sailor for f's sake. So cool.
Saturday, December 7
Post Its Show 15 @ Giant Robot
Every year, hundreds of artists make new work on post it notes and they're all on sale for $25 each. There's usually some BIG NAMES and this is my second year participating. You have to be there to buy one until the show ends, when they put what's left online (I think?). It opens on Saturday and I'm looking forward to actually attending this year.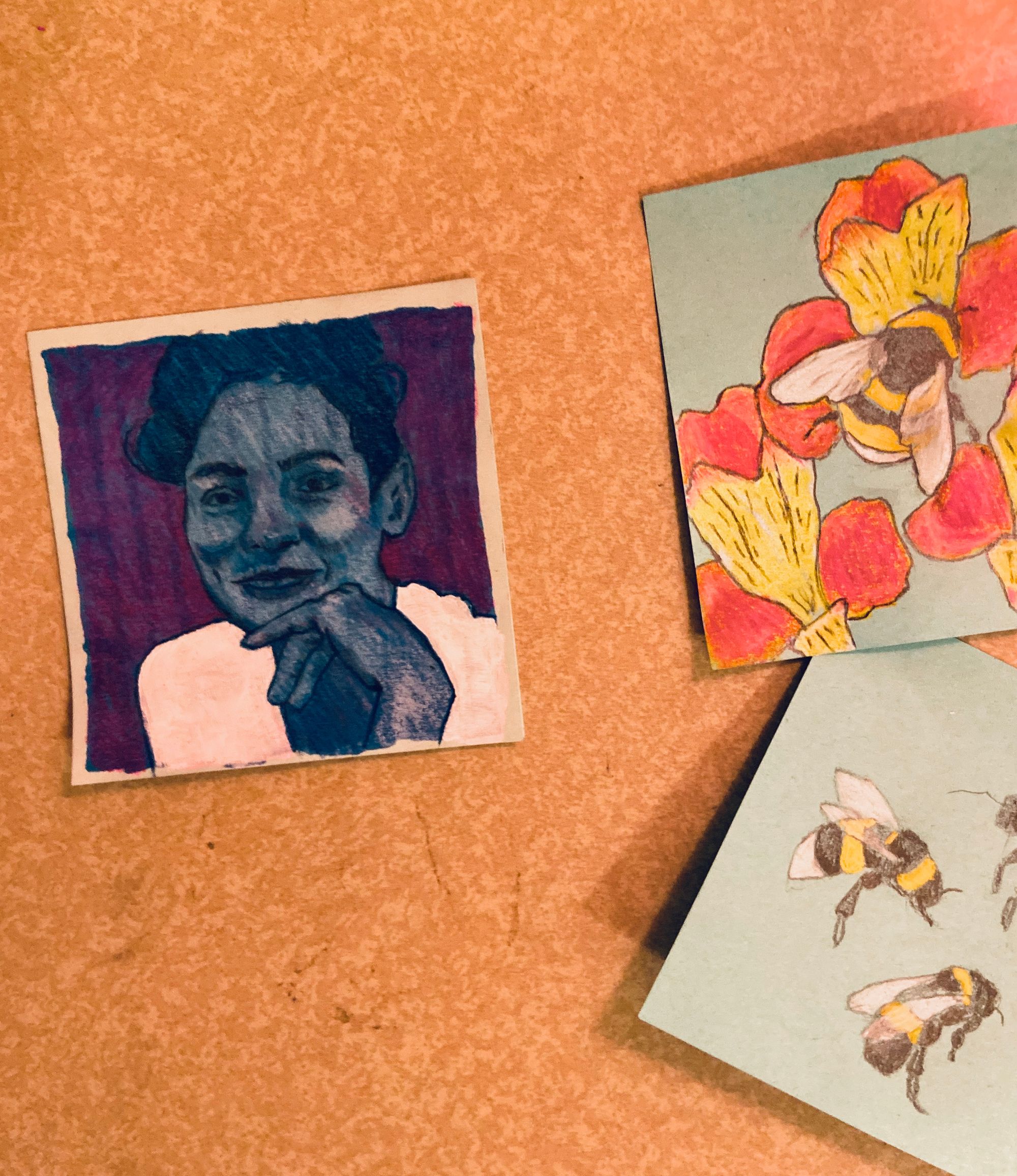 Saturday, December 14
Totoro show @ Giant Robot Store
Every year Giant Robot Store has a group show of art inspired by My Neighbor Totoro and it's super cute. I don't usually draw comic/animation related things but sure, why not! I'll have a new piece in this show. There's always cool stuff up at the store so check it out if you're in town.
Saturday, December 21
Worriers, Angel + The Halos, Crush Material, Strangers @ 924 Gilman Street, Berkeley, CA
It's Worriers first show at Gilman! Fuck yeah! Frank and I are going to play some things a little bit differently, some new arrangements, some new songs, it's gonna be cool. It's also a super queer show, which I'm always happy about. Obviously I like playing full-band when we can but the last time Frank and I broke out this kinda set it was actually really fun and I think you'll be into it. Bay area buddies, see you soon!
I'm really excited for next week, y'all. 🤫¯\_(ツ)_/¯ Talk to you then!