I'm just over here cheering 🎉
Lots of new things this week I'd like the applaud
I've spent the past month or so getting my webstore up and running and finished the second zine for the Worriers flexi 7" series. The Gay Divorcees listening party is on SUNDAY (it's free!) so I've been getting ready for that as well. I'm kinda tired! So I thought this week I would just spread the word about some projects I'm psyched about and send my digital applause.
Anika Pyle - Wild River
My pal Anika Pyle, who you might know from the bands katie ellen and Chumped, released her solo record Wild River today and it's a beautiful body of work. Anika combines new songs and spoken word in a way that I don't hear very often and that's exciting. As Anika put it:
Wild River is half spoken word and highly sequential. I recommend listening to it from front to back in one sitting. Maybe in a quiet place with a warm beverage <3
A song off the record was released a little while ago along with the video below featuring friends during quarantine. Cass and I make a brief appearance, and the thumbnail has the poster I drew for Jeff Rosenstock. FRIENDS!
Lætitia Tamko of Vagabon
Another thing I read this week that I think bears repeating is the Creative Independent interview with Lætitia Tamko (Vagabon). I first saw Vagabon at Shea Stadium in Brooklyn and I want to say that Aye Nako and T-Rextasy also played? That was a million years ago, but feels like it could've also been last year. I have no idea anymore. To read Lætitia talk about starting out with similar DIY shows to quitting her engineering job is inspiring. I think this interview happened a while ago but it's dated 2021 so….? Go listen to Vagabon!
If you're a Laura Stevenson fan you probably already know that she's doing a full album live stream of her record Sit Resist tomorrow. If we can't have in-person shows, at least events like this can be accessible to basically anyone! Earlier this week she also performed on the livestream celebrating the 50th anniversary of Carole King's Tapestry and as if I didn't love "Will You Still Love Me Tomorrow" enough, her cover is amazing. Instant tears amazing. The video below is cued up to her song but it also features Dar Williams, Annie Lennox, and Jill Sobule, among others.
Art by Jenifer Prince
Lastly, if you need more queer art in your life, I came across the work of Brazilian artist Jenifer Prince this morning and it's the contemporary lesbian pulp art I've always wanted! The image below is a Black Mirror "San Junipero" reference and you know that I'm here for that.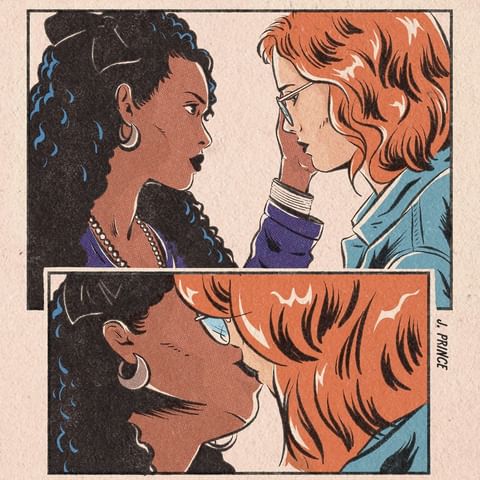 A post shared by jenifer prince (@jeniferrprince)
Honorable mentions go to the fun stuff you probably already know about like the whole guitar smashing thing and the Waxahatchee performance on Jimmy Kimmel (yay, Katie!).
---
If you're looking for Valentines, I have some printable ones up on my shop and Etsy. I've always wanted to make Valentines that you can just send to your friends, and what better time than when you probably haven't been able to hang out as much as you'd like. The download comes with both greyscale and color versions along with individual images if you want to send them digitally.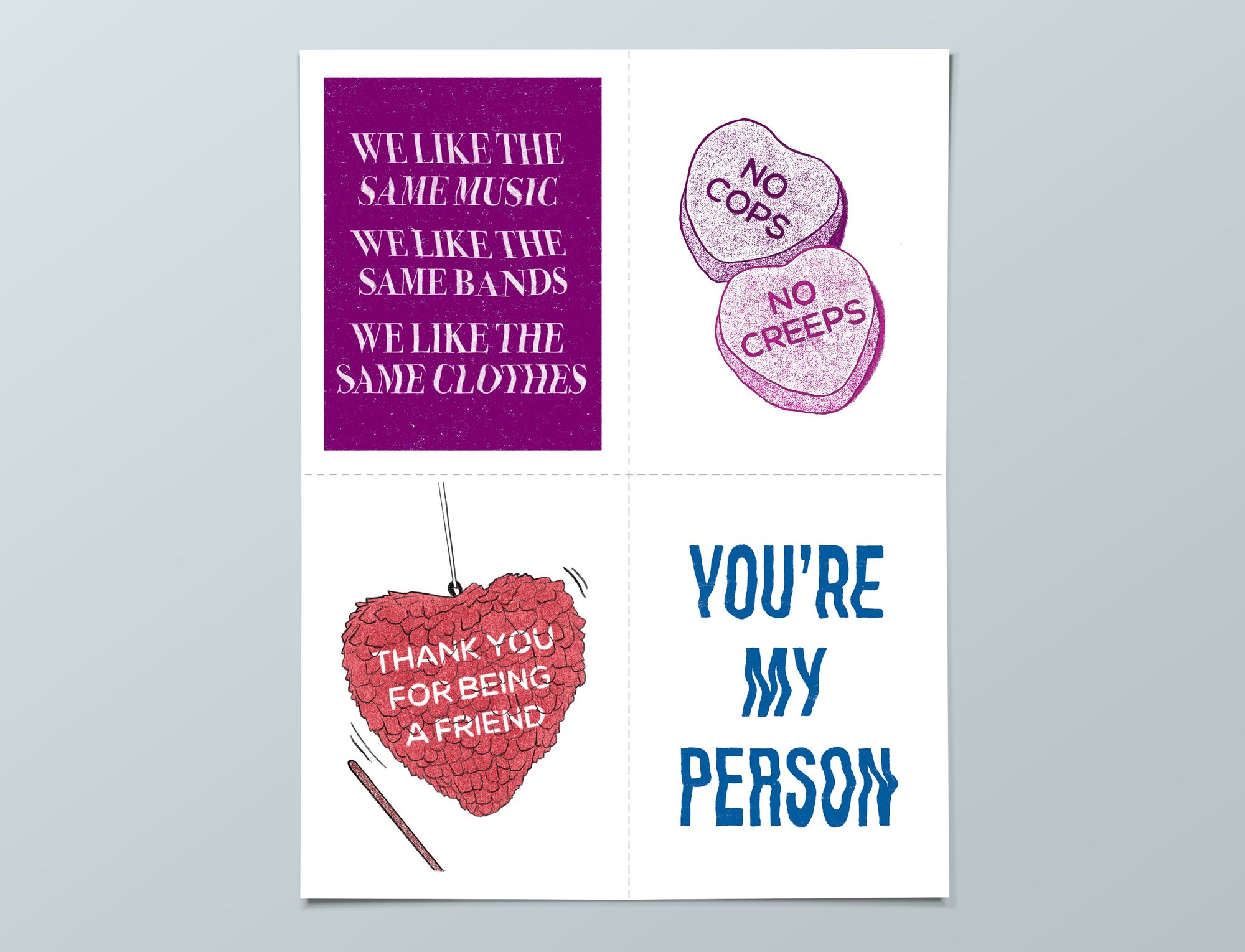 ---
Thanks again for reading!
You can follow Worriers on Instagram | Twitter | Facebook
You can follow my artwork on Instagram or my shop.
I also have a PO Box if you'd like to send or share things: PO Box 4684, Valley Village, CA 91617
---