This shit rules.
Band hacks, TV shows, new records, etc.
Hey folks! Worriers is getting ready to go to Fest next week, aka another year of missing your city's Halloween cover show in favor of hanging out with a Pabst or people who have had too much Pabst. This will be my lucky 13th Fest, and the 12th time I've played. That's really dating myself and saying a lot about my life choices but I'm fine with that. It's the most fun we'll have all year.
This time I get to see American Steel, Stiff Little Fingers (holy shit), Against Me! and…wait for it….it'll be my first time seeing JAWBREAKER. I know, I know, I'm the only fan in a major metropolitan area who hasn't seen them yet but I'm going to blame "being on tour."
If you're going to be in Gainesville this year, we're playing at 8 Seconds next Saturday night at 10:20 PM, right between Spanish Love Songs and a Spraynard reunion.
Then the next day I'm playing at the CMC at 4:30pm, right before Laura Jane Grace.
That's one ideal weekend, right there.
Now that I've awkwardly referenced Against Me a couple times let me tell you about some things that I think are awesome by invoking one of their song titles.
//////// THIS SHIT RULES ////////
Punks Who Bop
On my way to get a bagel sandwich at Belle's Bagels with some friends on Friday (yes, I set up a morning hangout with the sole purpose of eating bagels) I listened to White Reaper's new record that had just come out, You Deserve Love. I'm pretty obsessed with their power-pop gem Judy French so I had high expectations for this one. I got through one listen before bagel-time and was definitely into it. Some solid bops. While eating breakfast, one of the aforementioned friends mentioned that White Reaper were playing in town the next night. Nice! Of course I went, and their set totally sold me on the new jams, plus the fact that their rhythm section can riff just as hard as their guitars. Sick. I left feeling like they are, in fact, what happens when Exploding Hearts and Thin Lizzy have a baby. Anyone have any other recommendations for punks that bop?

Band Hack: An End To Gear GoFundMe's
If you're a musician and go on tour with things you feel are irreplaceable, please think about getting insurance if you haven't already. I'm sure there are other companies that offer it but myself and a lot of people I know use MusicPro Insurance. It's $150/year for a LOT of gear. That's not the cheapest number, but if your band can buy a van…please buy gear insurance. If things get stolen or you just break it, they will replace it. I even insure my computer this way. I have nothing against gear GoFundMe's but I don't want any of y'all to have to do that if you can avoid it. Maybe someone have a scene fundraiser and buy all your fav bands gear insurance? <3
Hate Speech and Rollercoasters, aka Succession
Oh great, a show about ridiculously wealthy white people. A story literally no one needs right now. I could go off the deep end on that one, but instead I'll harness a little bit of joy from the season finale and say that I LOVE Roman. I hate-love Roman. This sarcastic piece of shit played by Kieran Culkin has a romantic thing with Gerri, the female exec who is significantly older than him. The element that I kind of freaked out about, that I think makes this show even moderately valuable, is the fact that their romantic relationship is unexpectedly kinky and consists of Gerri humiliating Roman. The writers satisfied the will-they-won't-they element between the two by having Roman get off while Gerri calls him terrible names - first on the phone and then through a closed door. In a world where almost every television show places the highest value on pretty traditional relationships, I applaud the inclusion of this semi-alternative hookup so casually. There are probably much better examples on television but I really enjoy the Sorkin-esque dialogue while it all happens.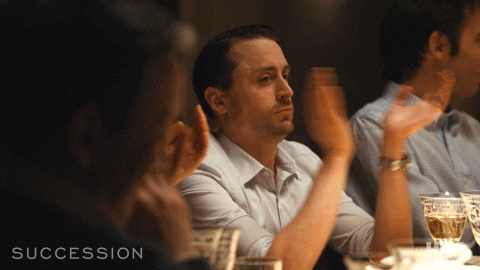 In the words of Roman after he equates marriage with abduction: ok, byeeeeee!!!
-Lauren
Next Worriers shows: The Fest 18, November 2 and 3 in Gainesville, FL
Worriers on Instagram
Worriers on Twitter
Worriers on Spotify
My artwork on Instagram