See you on the flip side
Like the end of a classic film or a Gaslight Anthem song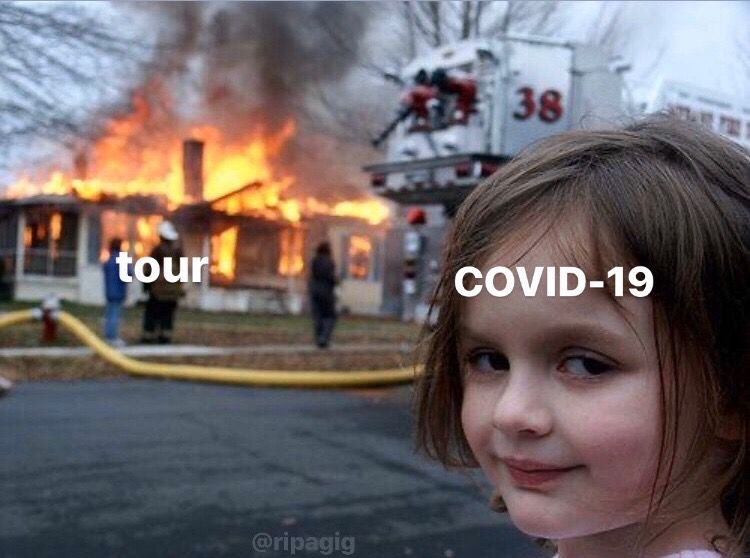 I'm taking a few days off next week for my own mental health and won't be bothering your inbox for a week because whatever happens next week will be exhausting for everyone. Heads up that I'll be putting the "Have Fun. Don't Die." koozies online for Bandcamp Day on November 6 if you want them.
Tomorrow is also the last day to get the first of four 7"s with zines by signing up to be an Annual or Founding subscriber. If you have any questions, please email me!
---
Things I've learned how to do over the past seven months:
I've also picked up a lot of resources and advice on time management, productivity that doesn't link self-worth to labor, realistic goals, and plenty of social media nonsense. Like many folks I know, I'm attempting to think of this like a rebuilding year, or an intentional sabbatical, even though it is neither of those things.
---
On the evening of March 12, 2020, I was hanging out at a Quality Inn outside Newark Airport with Frank eating Blaze Pizza, which should be illegal when you're that close to a true New York slice. Our tour manager was flying in from Arizona and we were meeting them there to start a US tour the next day. We had spent the afternoon practicing in Brooklyn and having drinks at the bar around the corner, something that has become a pre-tour tradition at this point. Frank and I had slogged our gear and suitcases to Newark begrudgingly, at the mercy of tour logistics.
This was during the just don't touch your face phase of things, where we still thought that gathering with hundreds of people every night for a month would be a feasible thing. SXSW may have been canceled but the shows on this tour weren't THAT big, right? I worry about everything anyway, so I had convinced myself this was another worst-case-scenario that wasn't going to actually happen and I needed to chill out.
Then our manager Talia called me unannounced and told me that all flights from Europe had been halted. This wasn't looking good. All Frank knew was that I was saying FUCK repeatedly. Within an hour we heard from the tour's management that we'd only be playing the first show and then calling it a day. This was all too dangerous and we didn't know how travel would be restricted over the next few days and weeks. An understandable and responsible decision, but it was the biggest possible kick in the gut.
We hadn't toured since recording a new record the previous July. The record was released a week earlier. Some of us had just flown across the country. This tour, and the year that followed, was what I had been working towards my entire life. I hung up the phone, said FUCK several times in a row, and laid back on that weird hotel bedspread, reaching the level of disappointment and sad where everything just feels numb. I didn't actually cry until a couple of days later. I may have been on the plane. I don't remember.
Most of my friends have a similar story of canceled plans and disbelief. The rug was pulled out from under us along with the years of work put into something that most parents think is ill-advised in the first place. While friends in other countries are getting ready to play small gatherings again or planning tours, here in the US we have honestly no reliable idea of when touring will happen again. There is no plan. There is no getting the virus under control. Only vague suggestions of social distancing and passive-aggressive comments to your friends who are somehow vacationing despite it all.
This election isn't going to change things overnight, but the results will determine whether we continue head-first down the path to idiocracy or not. I want a light at the end of the tunnel for all of us. I want to eat shitty pizza in a motel in Newark with my friends.
Please vote. See you after.
---
You can see my artwork at my website and on Instagram.
You can follow Worriers on Instagram | Twitter | Facebook
I also have a PO Box if you'd like to send or share things: PO Box 4684, Valley Village, CA 91617
The image up top is by Autumn Lavis.