An email that's not about the election
Finding something else to watch for a second
The past week I've been neck-deep in mailorder, specifically the zines and 7"s that are going out to all annual subscribers. If you still want one, I can still send you one if you sign up soon. There are a few left, so I'm leaving it till I run out or the end of the month, whichever comes first. I also just put my artist book up for sale again if you'd like a copy. I thought they were out of print but I was wrong!
Stay tuned for more interviews coming soon and if you pay for this thing (thank you) there will be more covers and a song tutorial coming ASAP.  I even upgraded to an adjustable camera arm thingy to shoot those art process videos for you. 🙌 CONTENT.
---
Whenever there's an obvious thing I think I *should* rant about, I want to write about it even less. Every time my friends get excited about a new record before I hear it, I want to listen to it less. What is that?
I want to dig myself out of this ditch more than anything. After I check my voter registration for the millionth time and donate to a progressive candidate in a swing state, I want to crawl into my bed with junk food and pirated TV shows and never get out again. I've been watching shows like Watchmen and Lovecraft Country, which are amazing in their own right but are also much-needed history lessons and reminders. I also somehow ended up watching a few episodes of Seeking Sister Wife which I want to find some anthropological value in but it's currently escaping me.
Right now, television (and podcasts) has been the way I can reset my brain and recharge myself to face reality. I know there are many more important things than TV shows right now but this is my newsletter and this is what I'm going to write about today.
I usually look for queer plotlines in whatever show I'm watching in an effort to see myself reflected back somehow. For reasons I can't quite understand, F@*ebook groups have been one new way that folks look for this type of thing, too. I just can't get into it. People gathering around their shared love of a band or a podcast or Fest. It's great that those things exist, I genuinely think that they're awesome, but I personally haven't been able to connect with people that way. I started thinking about this after interviewing Jeff Rosenstock last week, whose fans created a 4k+ person "shitposting"  group. It's wild to be able to find other people who think like you do, who can commiserate for a second or geek out about a record through something like that.* Outside of music itself, the thing I've been looking to lately for commiseration is mediocre television dramas.
If you're anywhere along the queer spectrum, you've probably typed your own version of "shows with gay stuff" into Google or gone down the rabbit hole of awful straight-to-Netflix LGBT themed movies in search of a version of The Notebook that looks like you. Finding something slightly queer that I haven't watched yet is one of the only things currently bringing me joy. To help you (or your queer best friend) find that similar light, without having to ask the internet, here is a quick list of things I've watched recently and whether or not there is "gay stuff."
Ratched - Yes! So far there's only a sub-sub-plotline but there's at least one scene of a "women's bar" in the 50s with the clandestine glove lunch vibe and I'm very into it.
The Great British Baking Show - Not specifically, because it's a show about cake, but the older seasons are all co-hosted by celesbian Sue Perkins who is one of my favorite parts of the show.
Dark - I don't think so? Honestly, there's so much time travel and I'm so confused about where or when anyone is I can't keep track of who's dating who. I'm going to go with MAYBE.
Halt And Catch Fire - Not that I can remember in the seasons I've watched but my crush on Mackenzie Davis is so strong that it basically counts as queer content.
Away - Sort of. There's one episode that centers around a lesbian romantic friendship and they basically never reference it again after that. It's basically queerbaiting.
Lovecraft Country - Yep! All kinds! It takes a few episodes to get there but it happens when you least expect it and truthfully those are the best kinds of queer plotlines.
Sister Wives - This season, yes, and it's a very feel-good family-friendly situation if you're into a solid first-love U-haul story.
The Haunting of Bly Manor - Yes, in some ways I didn't see coming, and it also includes what I think has to be a Kate McKinnon reference. There's so much potential for a bigger gay plotline but it hasn't happened so far. I haven't finished watching yet so 🤞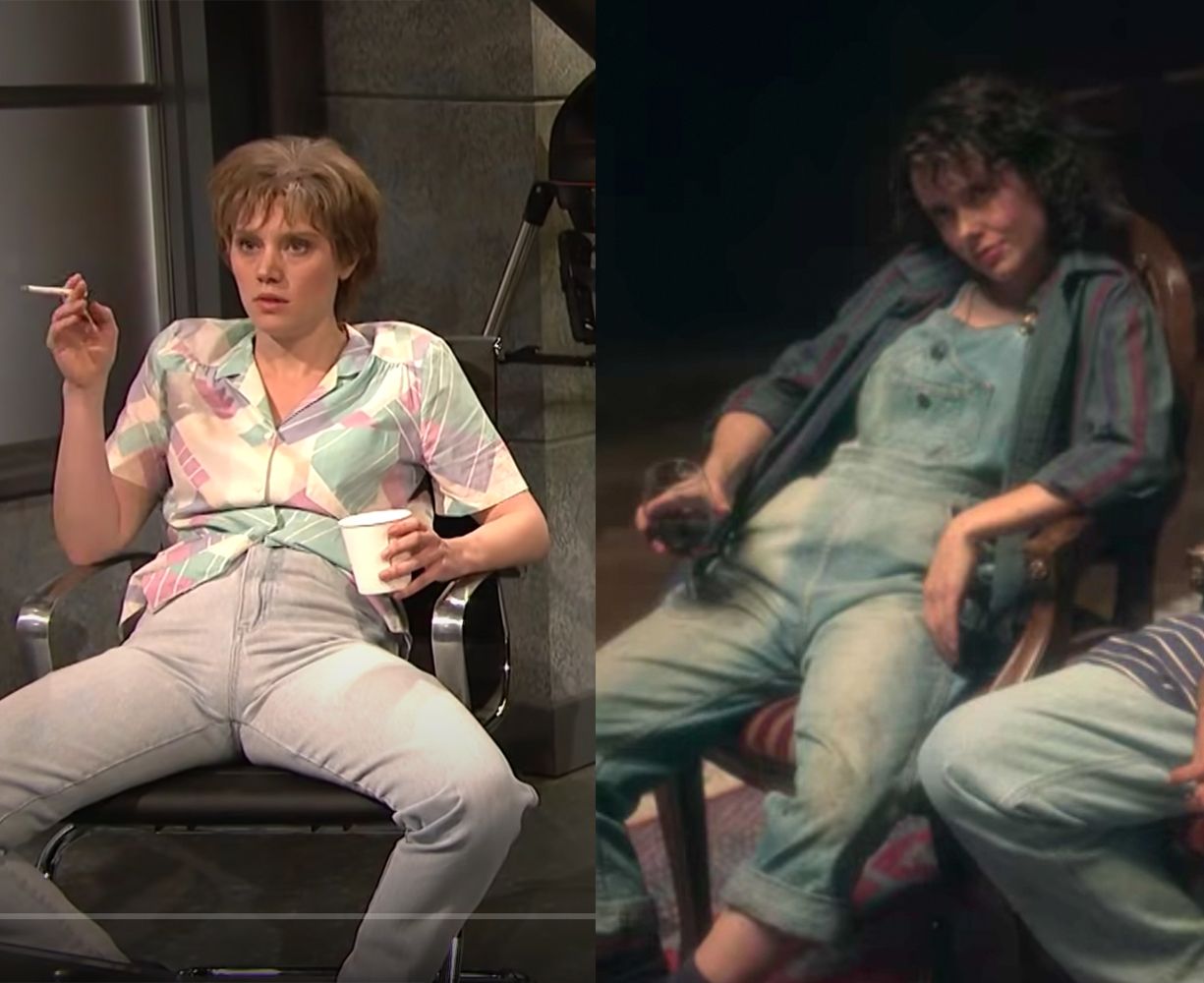 I'm sorry but tell me the actress in Bly Manor isn't channeling Kate McKinnon in the alien abduction sketches. C'mon.
---
You can follow Worriers on Instagram | Twitter | Facebook
I also have a PO Box if you'd like to send or share things: PO Box 4684, Valley Village, CA 91617
*Maybe this newsletter is my version of a shitposting group. I welcome comments y'all. Bond over this stuff if you so choose!