Well, here goes something!
Tour really gets going tonight in Seattle.
You're reading GET IT TOGETHER, a weekly newsletter that covers punk/indie/pop music, visual art, and related topics. I speak from a queer-feminist perspective about things that are often adjacent to my own creative practice.

This is a free post, but you can support my work for $5/month by becoming a newsletter supporter or forwarding this to a friend. Thanks for reading.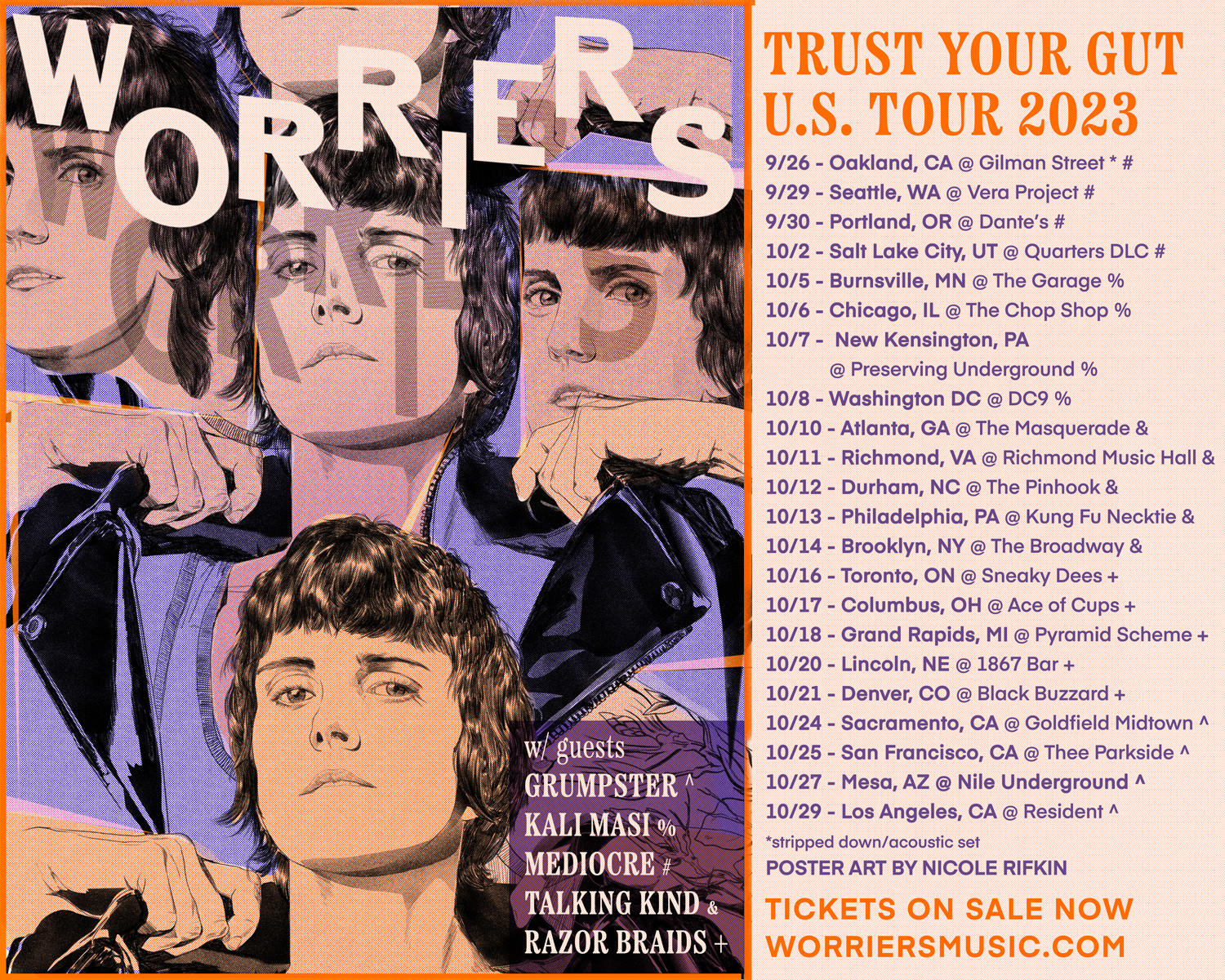 I'm writing this somewhere between Portland and Seattle, where we're playing this evening at The Vera Project for our first full-band show of tour. It rained on our way into the Pacific Northwest yesterday as we drove through the mountain pass. A nice introduction to autumn. Last night we visited some friends who have a cat currently shaved to look like a tiny lion. Frank is driving and I need coffee.
We haven't played some of these cities in four years, the equivalent of many bands' lifetimes, and I keep thinking about how much has changed since. How much has stayed exactly the same.
Most of the hurdles are still there, compounded by the algorithm and the shuttering of (most?) music publications. But we are a much different band than we used to be, traveling with more resources to sound like I've always wanted to, to sing better than I ever have, to have what sounds like an 8-piece band on stage. I'm nervous as all get out, as you might expect when you put everything you have into a project.
We've been working towards this for a long time and I just wish it didn't take five years to get here. I hope you've all stuck around long enough to share it with us.
I've learned so much about touring, making, and sharing things in the years since my last cross-country drive. In hindsight I wish I had invested in some of the resources we have for this one, thinking I would wait until it made more sense. The impact of having control of my free time, the documentation of our shows, the way we sound every night (bringing a sound person!), and full arrangements of all the songs, it was all worth doing years ago. I'm certainly having a great time with all of these things now. Here goes something!
My goals for the next five weeks:
Don't freak out
Take the time to invite friends, talk to people at merch, chill the fuck out (see above)
Find people to film more videos of our sets (could this be you?!)
Read at least one book
Find good vegetarian food
Play pinball
Get tattoos whenever possible
Take more photos
Finish the business plan for something Cass and I have planned 😈
Here's everywhere we're playing in North America and the UK between now and November 16. See you soon!
North America:
9/29 - Seattle, WA @ Vera Project
9/30 - Portland, OR @ Dante's
10/2 - Salt Lake City, UT @ Quarters DLC
10/5 - Burnsville, MN @ The Garage
10/6 - Chicago, IL @ The Chop Shop
10/7 - New Kensington, PA @  Preserving Underground
10/8 - Washington DC @ DC9
10/10 - Atlanta, GA @ The Masquerade
10/11 - Richmond, VA @ Richmond Music Hall
10/12 - Durham, NC @ The Pinhook
10/13 - Philadelphia, PA @ Kung Fu Necktie
10/14 - Brooklyn, NY @ The Broadway
10/16 - Toronto, ON @ Sneaky Dees
10/17 - Columbus, OH @ Ace of Cups
10/18 - Grand Rapids, MI @ Pyramid Scheme
10/20 - Lincoln, NE @ 1867 Bar
10/21 - Denver, CO @ Black Buzzard
10/24 - Sacramento, CA @ Goldfield Midtown
10/25 - San Francisco, CA @ Thee Parkside
10/27 - Mesa, AZ @ Nile Underground
10/29 - Los Angeles, CA @ Resident

UK:
11/6 - Milton Keynes @ The Caufurd Arms
11/7 - Norwich @ Voodoo Daddy's Showroom
11/8 - Bristol @ Crofter's Rights
11/9 - Swansea @ Bunkhouse
11/11 - Machester @ Factory
11/12 - Blackpool @ The Bootleg Social
11/13 - Glasgow @ Nice N Sleazy
11/14 - Birkenhead @ Future Yard
11/15 - London @ New Cross Inn
11/16 - Plymouth @ Junction

📷 Follow me on Instagram
🔊 Follow Worriers on Instagram | TikTok | Spotify | Tidal
✉️ Email me at getittogether@laurendenitzio.com
📬 Write me a letter at PO Box 4684, Valley Village, CA 91617
☕ Say thanks and buy me a coffee
This newsletter is built using Ghost,
an open-source platform built by a non-profit aimed at modern publishing. If you're looking for a platform to host your newsletter or subscription content, they get my vote.