More Of This, Please x October 2023
New friends, Sinead and pinball
You're reading GET IT TOGETHER, a weekly newsletter that covers punk/indie/pop music, visual art, and related topics. I speak from a queer-feminist perspective about things that are often adjacent to my own creative practice.

This is a free post, but you can support my work for $5/month by becoming a newsletter supporter or sharing this with a friend. Thanks for reading.
We are now on week 3 of a cross-country tour, playing a few shows with Razor Braids from New York. Tonight we hit Grand Rapids, a city we've played only a couple of times before, and due to the nature of things these days I have no idea if anyone knows about it. People have bought tickets, but I have no way of knowing if folks who have seen us in the past know we're coming back. We just send things out into the void and hope the promoter is doing their job, which is sometimes a crapshoot. If you've ever wondered the quickest way to feel anxious, book a tour.
Going with the touring theme this month, here is my October edition of More of This, Please!
New friends Kali Masi, Mediocre, Talking Kind and Razor Braids
Bringing a bunch of different bands with us on this tour has been a great experience so far. Everyone is chill! Please check out these new friends:
Kali Masi - melodic indie-punk from Chicago
Mediocre - grunge-y power pop from Los Angeles
Talking Kind - Pat from Spraynard and Big Nothing's solo project that will 100% get stuck in your head
Razor Braids - garage-inspired melodic punk
Every night so far we've walked on stage to Mandinka by Sinead O'Connor. Try listening next time you need a confidence boost. Hearing her voice, especially now, is a reminder of often uncompromising conviction to the tune of beautiful pop songs. It's a way of navigating the world that I try to cultivate in myself and my work. I often look to Hanif's writing to explain what I attach to music, so I thought his recent piece about O'Connor would be appropriate here.
In-Ear Monitors
Total game changer. I don't have words to explain how big of a deal it is to be able to hear myself well when I'm singing on stage. It's one of those things that has felt like overkill, so I didn't really pursue it until now. Big mistake. I should've found a way to use them years ago. Right now we're using a small transmitter that's relatively inexpensive and will work at medium-sized clubs. There are other wired options out there as well that can make it more accessible. If you're a singer, I can't recommend them enough. I love them so much. Best thing to happen in October.
Stranger Things Pinball
Tonight we play Pyramid Scheme in Grand Rapids where they have a lot of pinball. The last time we played there with the Menzingers I got hooked on the Stranger Things machine and it clued me in that I really enjoyed playing for fun and had a really good time just hanging out solo trying to hit the demigorgon and make it go into "upside down" mode or whatever. Everyone could use more hobbies and this one is mine - I'm excited to get back to the source!
Please consider donating to organizations like
MAP
(Medical Aid for Palestinians) or
Doctors Without Borders
to help those in dire need right now. Calling your senators to support a ceasefire is another action step.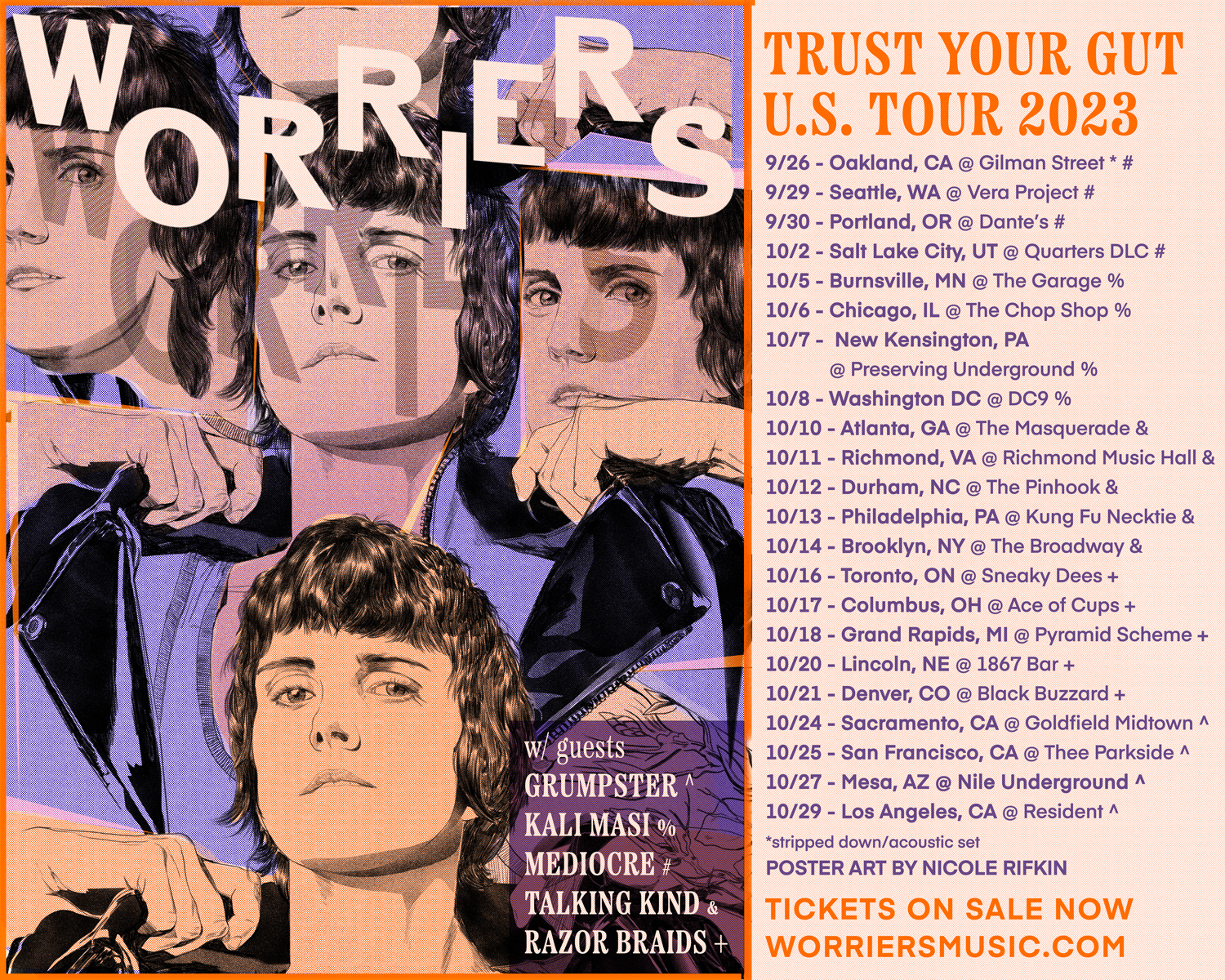 📷 Follow me on Instagram
🔊 Follow Worriers on Instagram | TikTok | Spotify | Tidal
✉️ Email me at getittogether@laurendenitzio.com
📬 Write me a letter at PO Box 4684, Valley Village, CA 91617
☕ Say thanks and buy me a coffee