Trust Your Gut is finally out today
Some thoughts about yet another brand new album
You're reading GET IT TOGETHER, a weekly newsletter that covers punk/indie/pop music, visual art, and related topics. I speak from a queer-feminist perspective about things that are often adjacent to my own creative practice.

This is a free post, but you can support my work for $5/month by becoming a newsletter supporter or sharing this with a friend. Thanks for reading.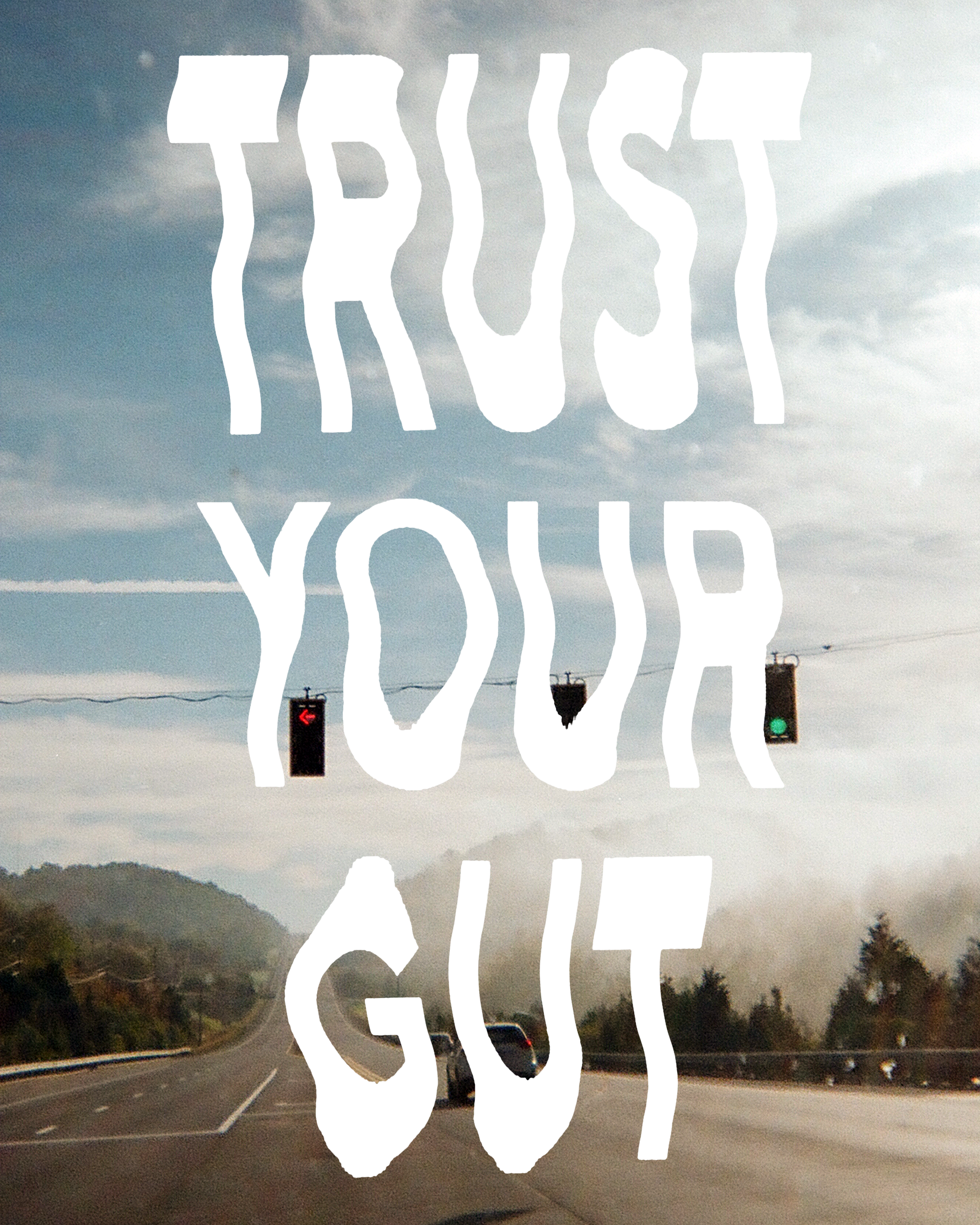 The past five years feel like a lifetime. Every five years have felt that way for as long as I can remember. There's been a constant hum of how-did-we-get-here in a way where I don't recognize the person I used to be when I look back too far. I recently had the pleasure of being a guest on the First Ever Podcast hosted by Touché Amoré's Jeremy Bolm and the conversation was all about your first experiences with music, being in a band, making a record, etc. I was able to talk about how those first experiences shape how I approach Worriers and making records in a way that's wildly different from the kid who could barely play guitar in a basement that first show.
Today I'm proud to share a new album, Trust Your Gut, that I made with some incredibly talented friends. They took the time to believe in these songs and invest their time and energy into a new project. Worriers has always been a nebulous entity that I've had to wrangle into different forms, but this feels like a first. A first what, I'm not sure, but it's something special.
These songs took shape in the room I was renting in 2020, in my friends' back house apartments, in a closet in North Hollywood, in a guest bedroom in the Hudson Valley, in a small practice space on Sunset Boulevard. They're about learning when to trust yourself, when to let go, when it's going to be ok, and when it definitely wasn't ok. I don't entirely know how I got here but I do know we made something I've been dreaming up for a long time.
The record is out now wherever you purchase or stream music, most easily found on Bandcamp. When we were rehearsing for a recent show in Los Angeles, we also shot a music video for track 1, side 1 called "Hold My Breath".
On Trust Your Gut, Worriers is:
Lauren Denitzio - guitar, piano, vocals
Frank Piegaro - guitar
Atom Willard - drums
Franz Nicolay - piano, organ, synths
Allegra Anka - bass
Ethan Philbrick - cello
Mixed by Jay Tooke
Mastered by Joel Hatstat
Vocal production by Rachael Findlen
The tour starts in just under two weeks and we hope to see you there!
Worriers North American Tour Dates
09.26 - Oakland, CA @ Gilman St.
09.29 - Seattle, WA @ Vera Project
09.30 - Portland, OR @ Dante's
10.02 - Salt Lake City, UT @ Quarters DLC
10.05 - Burnsville, MN @ The Garage
10.06 - Chicago, IL @ The Chop Shop
10.07 - New Kensington, PA @ Preserving Underground
10.08 - Washington, DC @ DC9
10.10 - Atlanta, GA @ The Masquerade
10.11 - Richmond, VA @ Richmond Music Hall
10.12 - Durham, NC @ The Pinhook
10.13 - Philadelphia, PA @ Kung Fu Necktie
10.14 - Brooklyn, NY @ The Broadway
10.16 - Toronto, ON @ Sneaky Dees
10.17 - Columbus, OH @ Ace of Cups
10.18 - Grand Rapid, MI @ Pyramid Scheme
10.20 - Lincoln, NE @ 1867 Bar
10.21 - Denver, CO @ Black Buzzard
10.24 - Sacramento, CA @ Goldfield Midtown
10.25 - San Francisco, CA @ Thee Parkside
10.27 - Mesa, AZ @ Nile Underground
10.29 - Los Angeles, CA @ Resident

UK Tour Dates with PAWS
11.06 - Milton Keynes @ The Craufurd Arms
11.07 - Norwich @ Voodoo Daddy's Showroom
11.08 - Bristol @ Crofter's Rights
11.09 - Swansea @ Bunkhouse
11.10 - Manchester @ Factory
11.12 - Blackpool @ The Bootleg Social
11.13 - Glasgow @ Nice N Sleazy (without Paws)
11.14 - Birkenhead @ Future Yard
11.15 - London @ New Cross Inn
11.16 - Plymouth @ Junction
📷 Follow me on Instagram
🔊 Follow Worriers on Instagram | TikTok | Spotify | Tidal
✉️ Email me at getittogether@laurendenitzio.com
📬 Write me a letter at PO Box 4684, Valley Village, CA 91617
☕ Say thanks and buy me a coffee