Things that make me yell WHY?! at the TV

Quick Worriers vinyl announcement! Our cover of Mission of Burma's "That's How I Escaped My Certain Fate" will be released as a split 7" with Screaming Females as part of the comic series What's The Furthest Place From Here on December 22. It's an awesome new comic by Tyler Boss and Matt Rosenberg and I'm psyched to be a part of it.

The 7" is only available via your local comic shop as a special bundle with issue #2, which is now available for pre-order. If you're ordering, make sure you're getting the WHAT'S THE FURTHEST PLACE FROM HERE? #2 Deluxe Edition. Order it at your local comic shop, or if you don't have a local shop you can order it from here.
This week, the IATSE (the labor union for film and TV crew members and technical folks) is potentially calling for a strike. They've been negotiating for better working conditions, which have historically included 12+ hour workdays for many. I support the union negotiations, knowing many of my friends are affected by how this goes.
A strike would mean that many shows already delayed due to COVID will halt production. I'm not complaining! It a reminder of all the work that goes into them, that there are real people behind them - people that deserve livable wages and working hours that aren't outrageous.
Support has grown for these negotiations thanks to social media, where more people could discuss their working conditions and realize what was happening to their coworkers. Another example of why you should talk to your colleagues about your salaries, your rates, what a project costs, etc! Not everyone has a union but that doesn't mean you can't stand in solidarity with one another to get better compensation and contracts.
While TV is still in production, I've been watching a few new shows to numb the whole world crumbling thing. While I got really excited about the new Muppet Movie this morning–I'm a child, apparently–I have a list of things in my film and television choices that give me reason to be fake outraged about something other than the usual fare.
So here, for your Friday reading pleasure, are a few things I've been watching that travel the spectrum of disappointing to hilariously awkward. Please @ me.
Chris Pratt as Super Mario
Yesterday it was announced that there will be an animated Super Mario Brothers movie in 2022 and Chris Pratt has been cast as Super Mario.
Ok, so let me get this straight: a white, blonde, evangelical Christian is going to play a dark mustachio'd (presumably Catholic) Italian. May I just say... THE FUCK OUTTA HERE! ::angry hand gestures::
There are much larger issues of casting discrimination than this, clearly, but every Italian-American bone in my body is standing up and yelling "Aye, what the fuck?!" at this choice. I know it's just his voice but I don't care. I'm still gonna be mad about it.
Tegan and Sara karaoke in The L Word: Generation Q
I am known to turn off Curb Your Enthusiasm when it gets too cringey. I can't handle watching characters who are otherwise likable in deeply awkward situations. Can't do it.
So when Sopie gets up on stage to sing Tegan and Sara's Closer at karaoke, I got a little nervous. She directs her performance at the completely hapless Finley (oof, FINLEY) to say that she'll stop treating her so awfully. Ok, I get it, have her sing a verse, it'll be cute, let's move on.
Nope! No. It keeps going. And just when the song goes on a little too long, Sophie personalizes the end of the chorus to I want you, Fin. I start to cringe but of course, it gets worse at the end of the next chorus as she emphatically yells Fin Fin Fin Fin Fin! both at Fin and in a room full of people. No no no no nonono. Cut to me curled up on the couch with a pillow over my face.
It's so bad! Why must they do this to a Tegan and Sara song? Why is Sophie making a grand declaration of love to the person she cheated on her fiancée with, in a room full of their mutual friends? Why is it so awkward? Whyyyyyyy?!
Work in Progress
As you may remember, I raved about Season 1 of the Showtime dark comedy Work in Progress. In stark contrast to The L Word: Generation Q, the show presented a wider range of gender expressions, races, and ages, in a relatable way. From queer dance parties to a group of older lesbians laugh-yelling at one another in a backyard, the show made me incredibly happy. So when Season 1 ended with Abby, the main character, angrily dead-naming her ex, I was taken aback despite it being bleeped. I hoped for the best upon the show's return. I was so so excited for it to come back.
Unfortunately, what I've seen of Season 2 thus far has lacked the spectrum of queerness we saw in the first season and largely turns into a series of opportunities for Abby to self-flagellate. The dead-naming was a huge fuckup, yes, but the spotlight shouldn't just be on Abby and her guilt 24-7. I was a huge fan of what this show was trying to do, but am currently quite disappointed in where the focus has been pulled and that it no longer feels like a weird gay family. Not to mention the fact that Theo Germaine isn't featured in at least the first five episodes and I'm sad about it.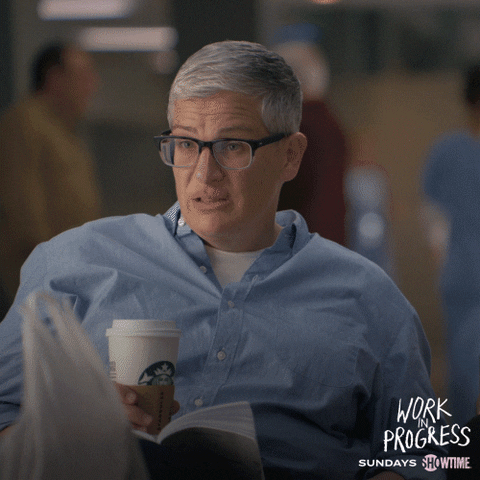 Thanks for reading this weekly newsletter supported by folks like you. It's completely free to subscribe, but for $5/month or $50/year you can get a bunch of extra things like demos, art downloads, advance access to limited edition merch, guest list spots and a 10% discount on all Worriers and art merch. You can find out more here.
ICYMI, Worriers is going on tour with The Menzingers and Dirty Nil starting October 8 and some of the shows still have tickets available. Paid subscribers, check out the last email I sent for some guest list spots! We have a lot in store for 2022 🤞 so stay tuned!