More Of This, Please x July 2023
Music writing, new songs, outside coffee.
You're reading GET IT TOGETHER, a weekly newsletter that covers punk/indie/pop music, visual art, and related topics. I speak from a queer-feminist perspective about things that are often adjacent to my own creative practice.

This is a free post, but you can support my work for $5/month by becoming a newsletter supporter or sharing this with a friend. Thanks for reading.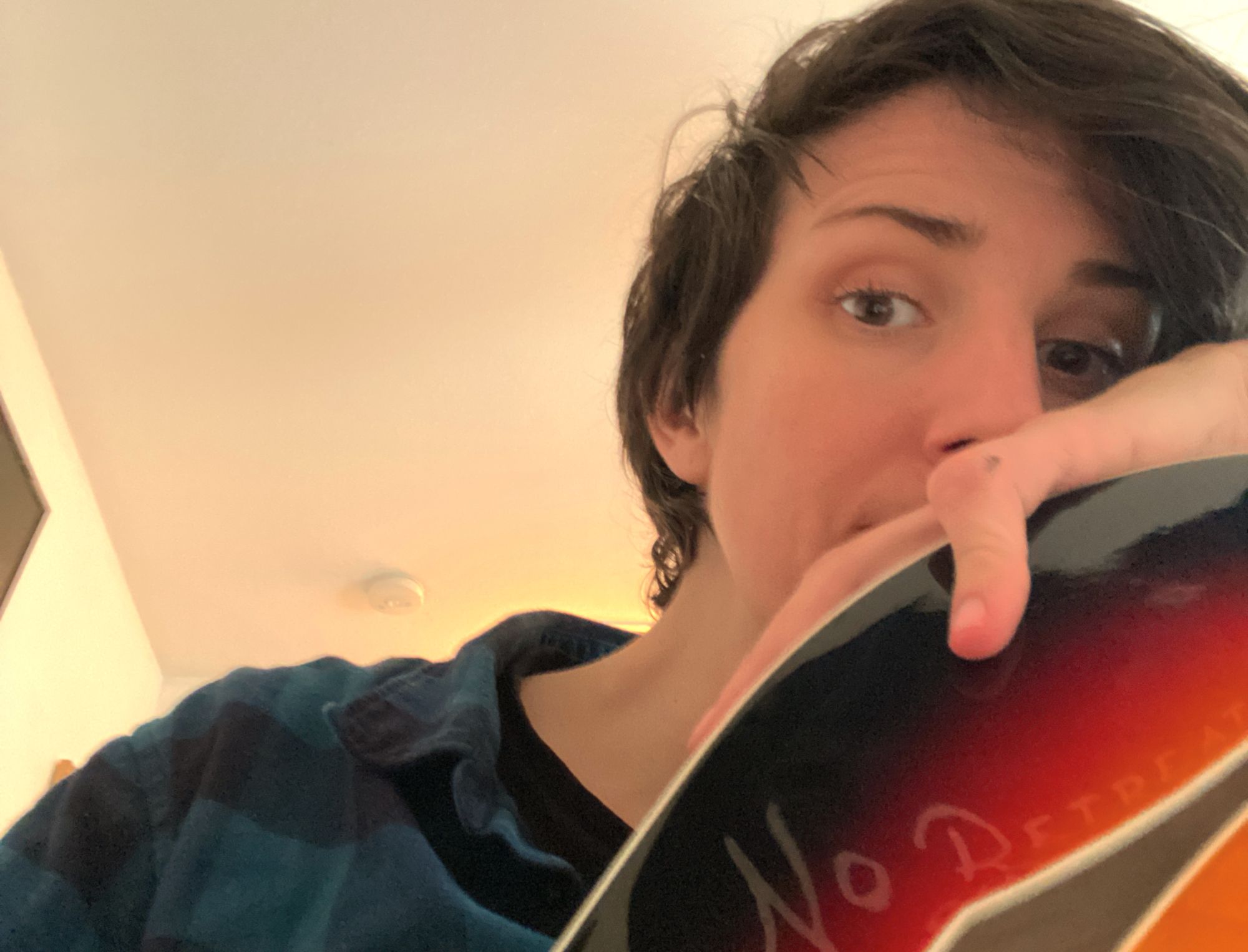 🎶
ICYMI, Worriers is releasing another album in September called
Trust Your Gut
and you can
pre-order it now
! We released the title track a couple of weeks ago and you can watch
the music video for it here
. If you really want to go all out you can
pre-save another new song
and it honestly helps us out a lot! The internet is annoying!
Also, if you've come to see us play in the past couple of years then you may have met our tour manager and merch person, Autumn! They're moving to Flagstaff to be a teacher and could really use some help right now. Despite good research and no red flags, they were recently scammed out of a rental deposit, which is my personal nightmare. If you have a few extra bucks, their Venmo is @alavis and all funds will go towards moving expenses. Thanks in advance!
Things I have been doing lately to avoid disappointment:
- playing fetch with Lucy
- going to the gym
- playing pinball
- accepting invitations
- helping Cass start a garden
- supporting a writer I like via their Patreon
- having my morning coffee outside
I love letting our dogs out into the yard without a leash, letting them run all willy nilly into the darkness, until we saw a coyote roaming our neighborhood yesterday and now I need to have eyes on their little paws at night. I could use just a few good things.
I want to focus on how excited I am to be sharing new music. How much I love spending time with my friends in the sunshine or seeing live music again or just sitting around playing guitar. I'm comforted by the fact that some wonderful people have my back these days. It takes effort to focus on those things when there is so much uncertainty in making music publicly and when a band that took us on one of the best tours ever is currently imploding for the worst of reasons. Enough with my ray of sunshine and onto the point of this week's post...
More of this, please x July 2023
In an effort to continue expanding my new music intake I've subscribed to some new music-related newsletters and Josh Terry's newsletter No Expectations that just gives me a lot to work with. Yes, I'm recommending someone who also just recommends things but considering his most recent post is about bands he's going to see at Pitchfork Fest I can guarantee you it's a bit different than what I typically talk about here. Personally, I've been looking for more insight into new music that's not just based on the latest press release or what's getting all the hype and I appreciate his taste in music!
Music writer Caryn Rose has a newsletter that very often covers rock music that I don't see written about everywhere else if only because it's not always the hot-new-thing. Recently she shared some thoughts on Mia Zapata, the late singer of the Seattle band The Gits, one of my personal favorites. I was in a Gits cover band for one of those Halloween shows a long time ago and it was some of the most fun I've had singing cover songs. Mia was murdered while walking home one night in 1993 just as they were reaching a wider audience. It's easy to think what would've happened had they ridden the wave of grunge. If you're not already a fan, I'd suggest starting with Enter: The Conquering Chicken.
Anti-folk songwriter Katie McTigue just put out this song that she was kind enough to share with me a couple of weeks ago. It's very my vibe at the moment. Sometimes you just need something equally irreverent and cute. May I also suggest following her on TikTok.
Live Laugh Love
I put the pillow over my face
And I just scream into the lace
Don't worry I'm just having fun
Hope I'm not bugging anyone
Some other fun songs I've been listening to
💪 Supermilk - Jessica's Army
🐾 Paws - Omaha
💞 Jeff Rosenstock - LIKED U BETTER
✊ The Mountain Goats - Solidarity Forever
📷 Follow me on Instagram
🔊 Follow Worriers on Instagram | TikTok | Spotify | Tidal
✉️ Email me at getittogether@laurendenitzio.com
📬 Write me a letter at PO Box 4684, Valley Village, CA 91617
☕ Say thanks and buy me a coffee