It's only partially about baseball
The real reasons I loved A League of Their Own, then and now.
You're reading GET IT TOGETHER, a weekly newsletter that covers punk/indie/pop music, visual art, and related topics. I speak from a queer-feminist perspective about things that are often adjacent to my own creative practice.

This is a free post, but you can support my work for $5/month by becoming a newsletter supporter or sharing this with a friend. Thanks for reading.
When I was little I told my Nana that I wanted to grow up to be a professional baseball player and she told me that girls couldn't play in the Major League. Pretty standard response from someone of her generation. Fine. But had she just said, "Lauren, you're afraid of getting hit in the face with a baseball." I would've said fair point! and left it at that. Instead, I clung to that discouragement with the fury of a Rage Against The Machine song and never really let it go.
It makes sense that A League of Their Own would be one of my favorite films. Barely old enough to really remember its release in 1992, I just know I was a tomboy and there was a movie about girls playing baseball and being very queer despite no one saying anything about being gay the entire time. Considering some girls at my elementary school were actually sent to etiquette class, I could only point to Marla Hooch being forced to act ladylike and identify. SEE, THIS IS BULLSHIT!
The movie is fluffy enough for a PG rating, and is not without its flaws. It didn't do much to dissolve traditional gender roles, none of the characters were implied to be any more than a little butch, and it barely acknowledged that Black people even existed let alone the fact that the league was flat-out segregated. Child-me didn't pick up on any of that very well, nor was I expected to, so it still has a special place in my tiny tomboy heart. If they could play baseball in 1942, then I could too.
I was more than excited for the recent tv series remake, led by Broad City's Abbi Jacobson. It's about baseball, sure. But it addresses gender, queerness and race within the league head-on, showing those aspects of life during World War II in a way that needed to be re-told. The series is so clearly made for the generation that grew up watching the original film thinking there was still more to the story. There was so much more we wanted to know than whether you're allowed to cry in baseball.
Overall, the new series gave me exactly what I had wanted to see all along. Baseball, female friendships, queer romance, race explored in a more nuanced way, and everything overlapping in a way that didn't (to me) feel tokenizing. There's even a gay bar! It has all the camaraderie and teamwork of the original film plus full storylines about their lives, identities, and struggles that make it less about girls playing baseball and more about the real lives of women and queer folks in the 1940s.
I haven't had a chance to read other think pieces, so feel free to respond here with your critiques, but I'm glad the show exists. It's an accessible history lesson that I think a lot of younger folks need especially. Anything to keep the inspiration going that just because you're told you're "not allowed" to be something, doesn't mean you shouldn't go for it anyway. Anything to remind folks how far things have progressed, how far we have yet to go, and how hard we should fight to keep things from sliding backward.
Maybe I didn't make it past the Somerset County recreation league, but I still love watching games. I went to my first Dodgers game recently and sat a few rows behind the dugout, which was a little insane. One perk(?) of our seats was that every time there was a left-handed batter we had to watch out for foul balls and the Dodgers kept tossing a few over near us for the kids in the stands. Turns out I'm still 100% scared of getting hit in the face with a baseball.
Anyway... SPORTS!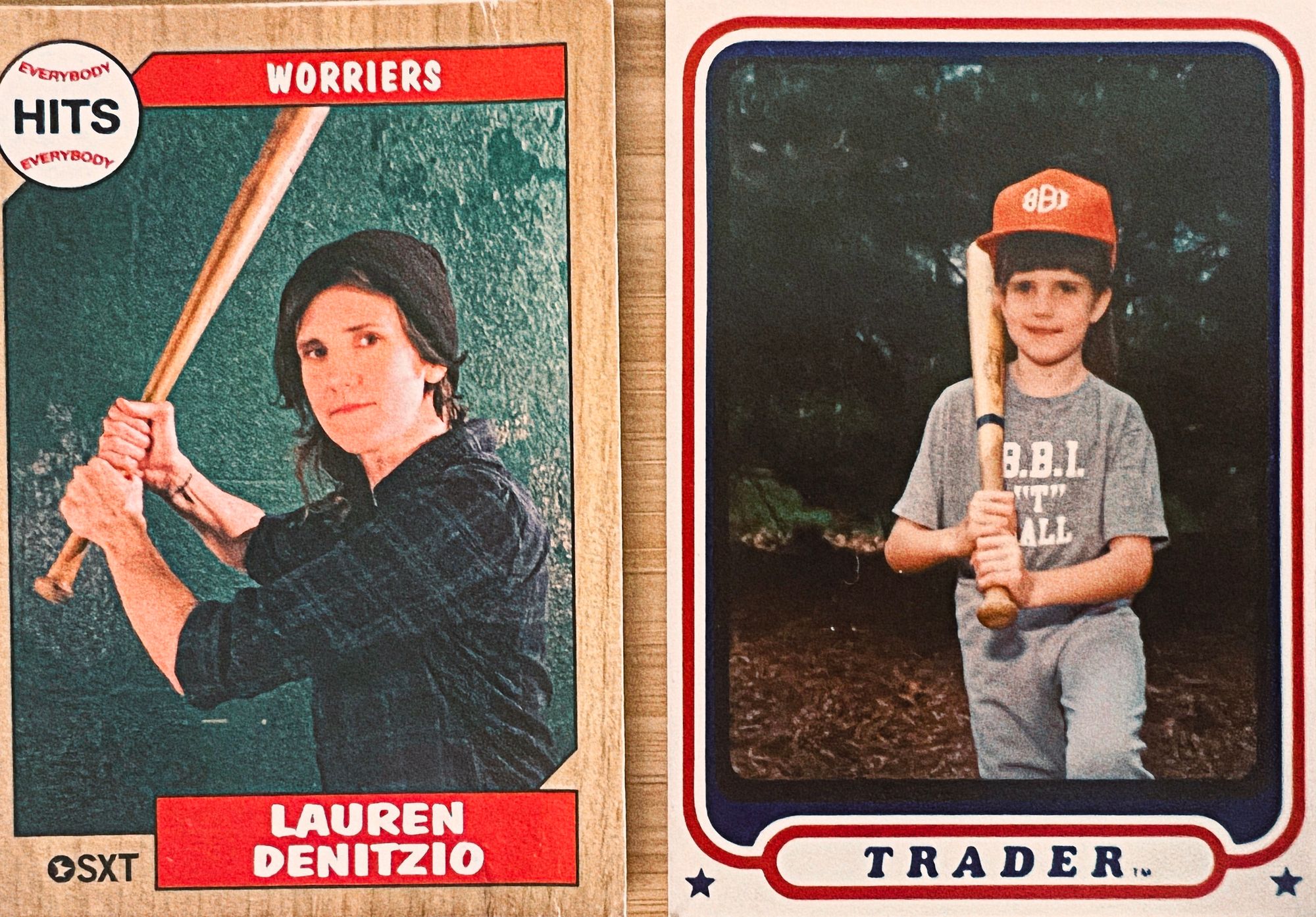 📷 Follow me on Instagram | Twitter | TikTok
🔊 Follow Worriers on Instagram | Twitter | TikTok
✉️ Email me at getittogether@laurendenitzio.com
📬 Write me a letter at PO Box 4684, Valley Village, 91617
☕ Buy me a coffee