More of This, Please x May 2023
You're reading GET IT TOGETHER, a weekly newsletter that covers punk/indie/pop music, visual art, and related topics. I speak from a queer-feminist perspective about things that are often adjacent to my own creative practice.

This is a free post, but you can support my work for $5/month by becoming a newsletter supporter or sharing this with a friend. Thanks for reading.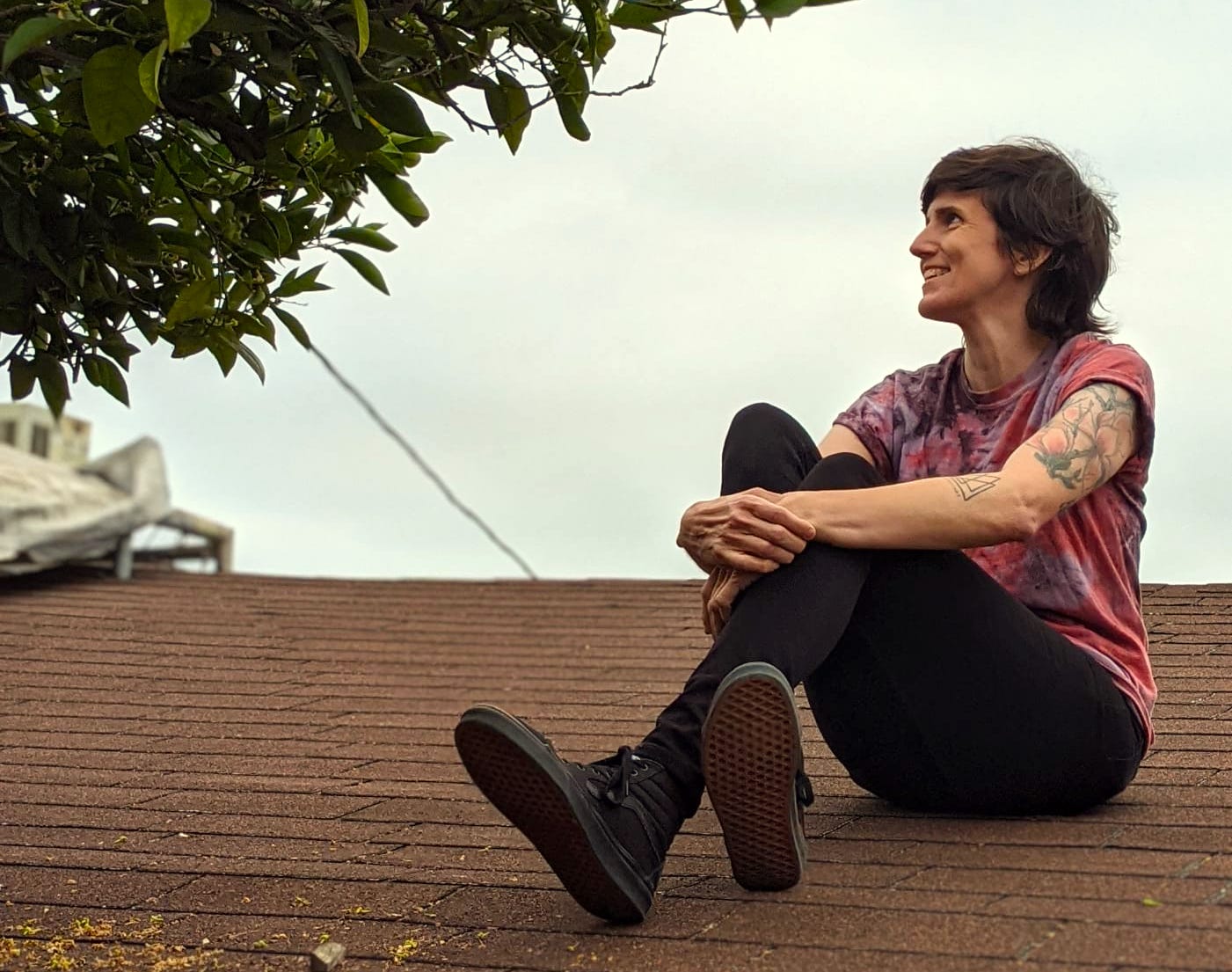 🚨
ICYMI there are two new
Worriers shirts
up in our merch store now - the remaining items from a couple of tours! Stay tuned for a lot more band news next month!
Touching grass and petting a companion animal is basically the same thing. I was hanging out with a few friends the other night at this cute bar patio and out of the corner of my eye, I saw something walk up next to me. A black and white pit mix had decided to put his chin on the arm of my chair. He just wanted to say hi. As soon as everyone noticed we yelled HE KNOWS!!! because clearly, this dog knew that a) we loved him and b) we needed him.
Things feel increasingly dark these days, something I don't want to understate. But this is a place for me to highlight some things that act as a light in the dark. It may not be quite like petting a dog but here is this month's edition of MORE OF THIS, PLEASE!
I haven't taken this course but knowing it exists gives me some hope for the world. They review what it means to operate as a self-employed person without replicating oppressive structures inherent in capitalism. According to the description, it's not about the "charge your worth" mentality but their tactics still emphasize finding what you need to survive and thrive.  I just think this general conversation is so important and knowing where to find like-minded folks is always cool! If you've taken this course I'd love to hear about it.
If you want to know what's really going on with the writer's strike on a daily basis as well as things in film/tv that are impacting it, Clara has been a good quick reference on all the gossip. Not like I need more reasons to support the strike but if you're wondering what the deal is and want some more context for the media you're consuming, I've really been enjoying her videos!
There's no conceptual explanation for this one other than the fact that I just think Pete Holmes is really funny and when his clips pop up on social media it makes me happy. Even when he's making a Springsteen dig. I was too indecisive and lost out on seeing his show in Los Angeles this weekend before tickets sold out! Weep womp!
New music I enjoy!
✅ Alex Lahey - The Answer Is Always Yes
💖 Jeff Rosenstock - LIKED U BETTER
🎉 The Dirty Nil - Free Reign to Passions
🏥 Radiator Hospital - Can't Make Any Promises
---
📷 Follow me on Instagram
🔊 Follow Worriers on Instagram | TikTok | Spotify | Tidal
✉️ Email me at getittogether@laurendenitzio.com
📬 Write me a letter at PO Box 4684, Valley Village, CA 91617
☕ Say thanks and buy me a coffee
This newsletter is built using Ghost, open-source technology built by a non-profit aimed at modern publishing. If you're looking for a platform to host your newsletter or subscription content, they get my vote.