Living a bit too intentionally
You're reading GET IT TOGETHER, a weekly newsletter that covers punk/indie/pop music, visual art, and related topics. I speak from a queer-feminist perspective about things that are often adjacent to my own creative practice.

This is a free post, but you can further support my work by becoming a paid supporter or sharing this with a friend. Thanks for reading.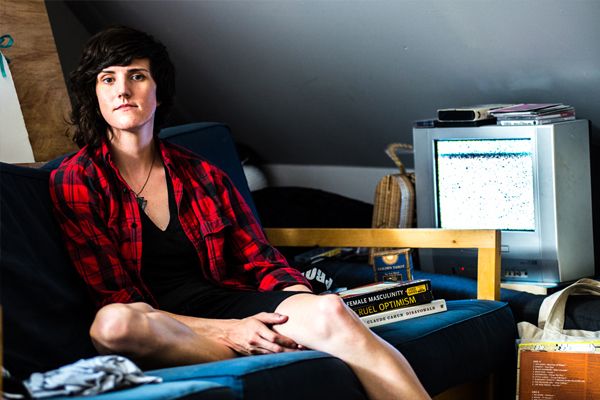 One day when traveling and going to shows is not a big part of my daily life, I'd love to live in a more rural setting with many friends in separate houses all on the same property. Or at least very close by in a way where we can share some resources and generally lend a hand when needed. Plenty of folks I know laugh at the concept of ever retiring, so living collectively will likely be on the horizon for many of us, if it's not already.
I spent many years living in various types of collective and communal living arrangements in Brooklyn. I always had roommates, at one point 8 of them, and came to appreciate those structures and intentional living. There's a difference between having roommates and actually trying to build a home with other people long-term. It's a noble cause and one that I admire. I've become fluent in the language of queer and feminist-minded collective living, with an emphasis on communication, boundaries, household bonding, etc. I love it. Truly. I am being very sincere here. Nothing will get my attention faster than a story of a lesbian separatist community.*
If you've been in collective living circles at any point, you know the balance it takes to keep things from teetering into a passive-aggressive hellscape, or how easy it can be for infighting to make a house implode. There are roommate interviews that are lovely and where everyone seems charming, but there are those that are so soaked in hippy-speak that it's just one giant red flag.
If more of us are headed towards collective living then it's a good idea to start thinking about how to make that work. How do I better communicate my needs to housemates? How do we set boundaries while sharing so many resources? How do we collectively set up a positive living environment? What are the qualities and actions that can jeopardize that?
Well, my friends... buckle up. The internet has brought me a true marvel of a roommate listing and I just need you all to witness it with me. Think of this as a learning opportunity.
Can someone please explain to me what the fuck is happening here.
First off, let me say that I don't want to yuck anyone's yum, especially when it comes to creating a healthy living situation during a housing crisis. I don't think that's what's happening here and every time I read it I just keep internally screaming. They state openly that they have the financial stability to live alone, so their needs are not based on avoiding precarity or navigating limited resources.
Here are my questions:
Is this the first step to a cuddle cult?!
What are mirror pronouns and who asked for that kind of chaos?
How is this polyamory- and kink-friendly place going to roll when everyone has to share a bedroom with someone they're not necessarily dating? See first question.
Swing dancing?
Does the term "extravagant tenderness" make anyone else's skin crawl?
Why did the three previous roommates all leave? (Cass responded to this with "I think I know what happened." 😂)
Who wants to bet $10 they're not going to help take care of any of these hypothetical dogs?
What are the odds someone would have an Emotional Support Animal that they did not want to cuddle with them on the couch?
Why do we queers need to turn ideas like "please help out and do chores" into a Judith Butler essay?
I'm sure there are people who will read this listing and be thrilled. When finding housemates can be difficult this sort of intentionality may be a great fit for someone who is definitely not me. There is a point at which so many points of intention, or guidelines, or motivations for a house go from being someone's safer space to just being their space and that is when I would like to slowly back out of the communal home. To be fair, good for them for being 100% transparent about what folks are signing up for. Everyone should be able to manifest whatever queer chosen family they want!
I wasn't kidding, I'm really into this stuff:
📸 Lesbian Lands, a photography project by Leah DeVun
📖 Stay and Fight by Madeline ffitch
🌳 No Men Allowed: Can the Dream of a Women's Utopia Return? by Ann Foster (Bitch Media, 2022)
🪵 The Land Dykes of Southern Oregon Saved My Life by Vanessa (Autostraddle, 2019)
🏘 Somewhere, Away From It All by Molly Walls (The New York Times, 2018)
🖼 Idyl Dandy Arts (IDA), a Southern rural community land project and educational space providing residential and communal space for queer, trans and gender non-conforming people of color
If you have any suggested reading on contemporary intentional communities, collective living, separatism, etc. feel free to share that with me. I'd love to share some more current articles, zines, etc. on the topic.
*no TERFs
---
There are only a dozen of the Lucy Loves You shirts remaining. If you'd like one, head over to the Worriers merch store to pick one up!
If you haven't listened yet, the entire Jack Terricloth tribute album "Endless Possibility" is out now and available on Bandcamp and on vinyl. I cover "Grasping at Straws" by Sticks and Stones. Other friends on the comp include Jeff Rosenstock, Nervous Triggers, Hatrabbits, Emilyn Brodsky, The Ratchets, and more.
📷 Follow me on Instagram | Twitter | TikTok
🔊 Follow Worriers on Instagram | Twitter | TikTok
✉️ Email me at getittogether@laurendenitzio.com
📬 Write me a letter at PO Box 4684, Valley Village, 91617
☕ Buy me a coffee