I can't say I didn't see this coming
Well, you guessed it,
more of our tour with Brian Fallon has been cancelled and the tour will now start in Atlanta on February 15.
If you have tickets to any of the previous shows you should be able to get a refund from your point of purchase. My bandmates and I are beyond bummed, but can't wait for the last three weeks of the tour! See you in February?!
You can buy tickets here.
Things feel completely surreal. The only things tethering me to a sense of time are deadlines and trying to finish writing another record. I know I'm not the only one continuing to feel isolated and confused about what exactly is safe or considerate or responsible or what.
I wish I could say I didn't see the current state of things coming, but my cynicism wouldn't let me forget how self-destructive and uncaring people can be. I know it's easy to say "take care of yourselves" when you forget the level of uncertainty that a lot of people are facing right now. My sympathy and patience, however, are beginning to wear thin.  
In the interest of the intentions I've set for myself these days, I'm cutting the cord between myself and those with a certain brand of self-destructive and lazy interaction with the world. I can't stomach watching folks who don't care about themselves, or their friends' safety, even before the pandemic. Cannot. Somehow their orbit keeps grazing mine, which disappoints me, and I just want to encourage y'all to cut that shit out of your life if you want to. It makes me sad to watch and I'd really rather not be associated. "Posi vibes only" is toxic but so are nihilism and apathy.
Going on tour tends to whip me back into a world of like minds, supportive friends, and people who are passionate about what they do. Sometimes it's hard to remember all of those folks are out there when I've barely left my house in a couple of weeks. I'm disappointed that I don't get another big reminder until February. At least I got a nice haircut yesterday?
Things that are holding me up right now
The Wild Hearts Tour 2022 - Sharon Van Etten, Julien Baker, and Angel Olsen!? This shouldn't be allowed. Who made this tour? It's too good!
Someone Should Pay For Your Pain by Franz Nicolay - this has been on my reading list for a while and it's serving as a good replacement for actually seeing anyone at shows. I feel like I recognize the glimmers of many friends in there.
Civilization VI - I'm not really a video game person because I get addicted, but I'm really enjoying this game technically. I'm only mentioning it here on the off-chance someone knows a similar game that's not based on real-world colonialism? Like, can I get a queer feminist world-building game where everyone competes to build the most communes? I'm really not into the whole war thing but sometimes I need to turn my brain off and compete over something imaginary.
Anika Pyle on Patreon - I've talked about Anika's work and presence on Patreon a bunch before but I only recently became a paid subscriber. I think her Muse + Letter monthly posts are emotionally valuable content and operate as great personal check-ins.
Kevin Devine - Albatross, a new song off of his forthcoming LP "Nothing's Real, So Nothing's Wrong." This just fits my current "wtf is even going on" mood perfectly.
---
The one bright side, spending so much time at home lately has let me successfully complete some projects and I've had time to just fire off a couple of fun items to add to my webstore. One is a sticker that says "No Cops. No Creeps" on candy hearts. The other is a camping mug that says "FUUUUUUUCK" in my warpy lettering. They're both moods.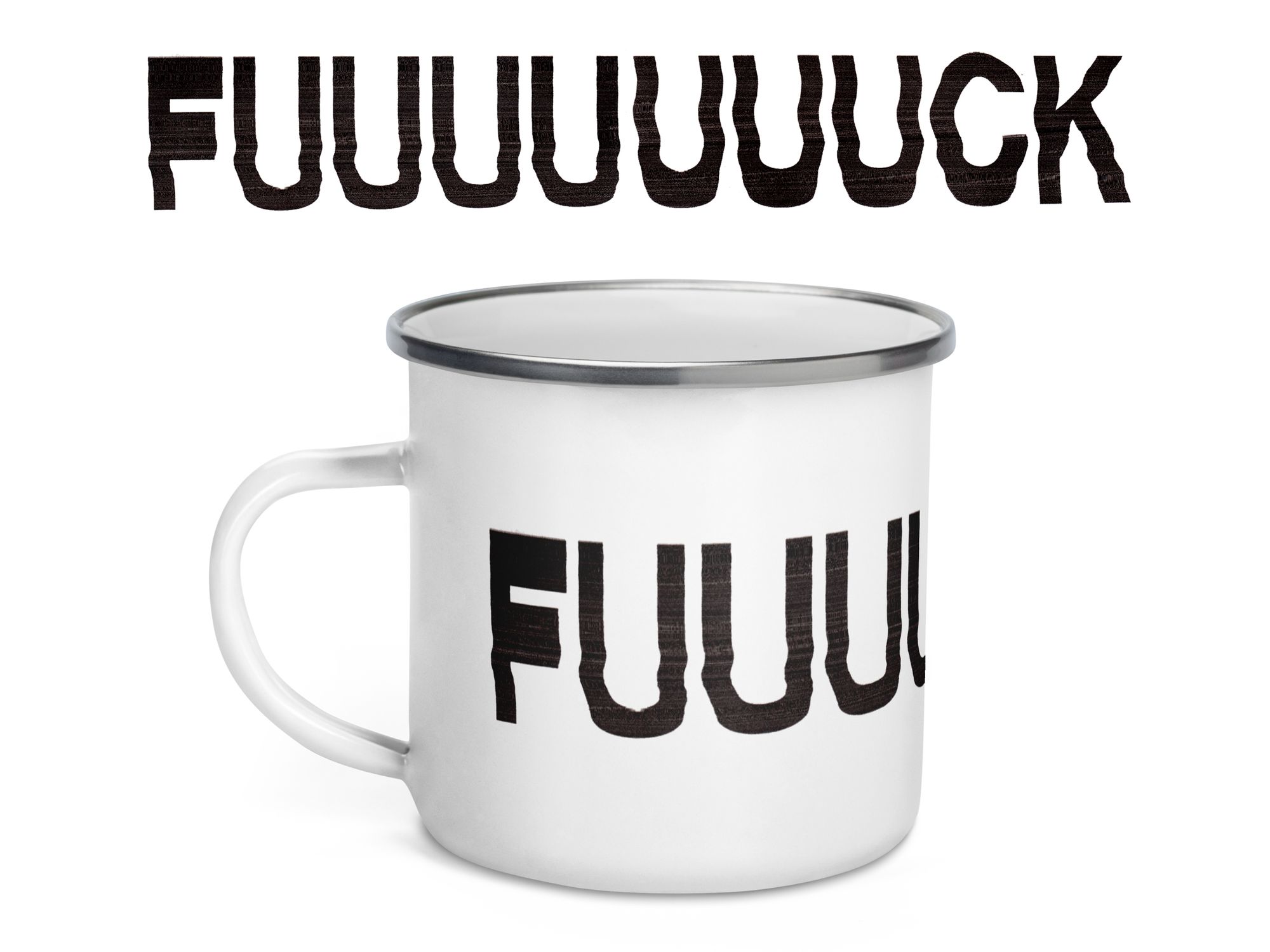 ---
A quick note to say thank you to anyone who wrote me a letter or sent cards over the holidays. I'm going to write back this weekend! My PO Box is always here:
PO Box 4684, Valley Village, CA 91617